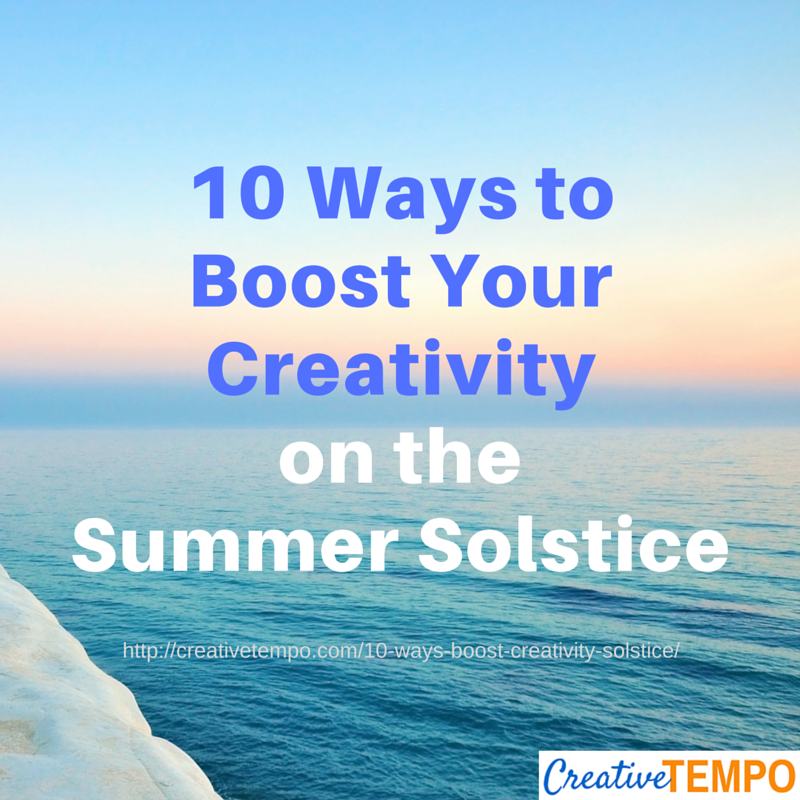 Thursday, June 21st, is the Summer Solstice and the day when the sun is at it's highest peak and shines it's light for the longest time each year. You know that the energy of the sun is a power source that connects and renews life on earth, yet did you also know, that when you plug into it, the sun can boost your creativity as well?
We are creative beings and when we fill up with that power and let go of old patterns at the same time, we overflow and can't help but shine it outward in the form of actions and things we create.
All of or your actions are creations, whether you bus tables or make art. Motion, movement, doing, dancing, holding, loving, sounds, speaking, words, hugs, writing, artwork – are all creations of an act. By your choices, the resulting actions create shadow or light, movement foward or back, cause joy or pain. Thankfully, life is dynamic, always moving and you can course-correct quickly.
If you find yourself too far on the dizzy-happy end, you can balance out with some down time, reflection, take a stroll and harness that zing for brainstorming your next project.
If you're feeling stressed out, exhausted or overwhelmed, choose an action that will change it up and reset your mood. Here's quick checklist to get you started and clear your creative channel.
10 Ways to Boost Your Creativity on the Summer Solstice:
Eat More Plants.
Get some Sun – Try 20 minutes (sans sunscreen) and soak up that vitamin D. Then put sunscreen on if you need to.
Pick one habit or routine you want to change and do #4.
Start a new habit to replace the old one you dropped in #3.
Restart your exercise plan or do a 90-second intensity push on your current one.
Meditate an extra 10 minutes (just be still for a while).
Do a one-day fast (doesn't have to be no food, just eliminate something not so healthy).
Do a 24-hour body clear-out (no sugar/processed food/drugs/alcohol/smoke-free)
Do something joyful and celebrate being alive.
Show kindness and generosity to someone.
Download the checklist and share if you like:

Just for fun, let's dive in a little more to number one on the list, Eat More Plants. The energy of the sun is a powersource that feeds life on earth, most directly through plants. So, if you pretend you're thinking like a child and you want the energy of the sun, what would you do? Eat plants to, to eat the sun. Naturally!
The more adultish path to this idea is that the most direct way to absorb the energy of this awesome star (and stay alive), you need to get it into your body any way you can, one way is to sunbathe (or sungaze) and another, is to eat what soaks up the sun the most – edible plants.
What if by eating more green plants you could rocket launch your creativity?
Now, I'm not telling you to turn vegetarian or go raw food overnight, but what if for just one day, say on Summer Solstice, you play with that idea and eat more plant food just today?
Even better, pick it fresh, chew it slowly and swallow it down – all while feeling like you really are eating the bright light that beamed into those plant fibers and transmutes into chlorophyll making every cell that you are made of, into overflowing light and energy. That same energy tranforms into our bodies, our cells, our thoughts and things we create.
So back to how we started this little journey, the Summer Solstice. Often when important cosmic dates hit, you might check in with the latest astrology reading, just for fun, or more serious guidance. Western astrologers will add all kinds of details about this Solstice like, "… the full moon is in Sagittarius… and it's the first strawberry moon in 70 years." Naming the moons started with understanding the natural rhythms of the earth and knowing when the timing was right for actions – this one is the time to pick strawberries. (Back to the connections with those plants again).
Ancient rituals and celebrations are held at solstice times and often focus the experience outward – don't feel as if you cannot participate unless you go to Stonehenge or New Mexico to attain something you lack.
The beauty of the sun is that it's where ever you are. Just go outside and feel it, no travelling, no fancy celebrations or flowing robes are necessary. You have what you need and the power to make the choice to sit still for awhile (with no technology).
Use this natural timing of the earth to initiate new directions and change patterns.
Get still and go inward with this energy when you can because,
… These two times in life, the summer solstice and winter solstice, are when the divine cosmic energy can help you elevate your consciousness and your health." – Yogi Bhajan
What do you do different or focus on during times of natural earth rhythms, like the Solstice?
Share one thing you've noticed about how natural rhythms affect your art.
Subscribe > Mostly weekly… Always for you.