Art Style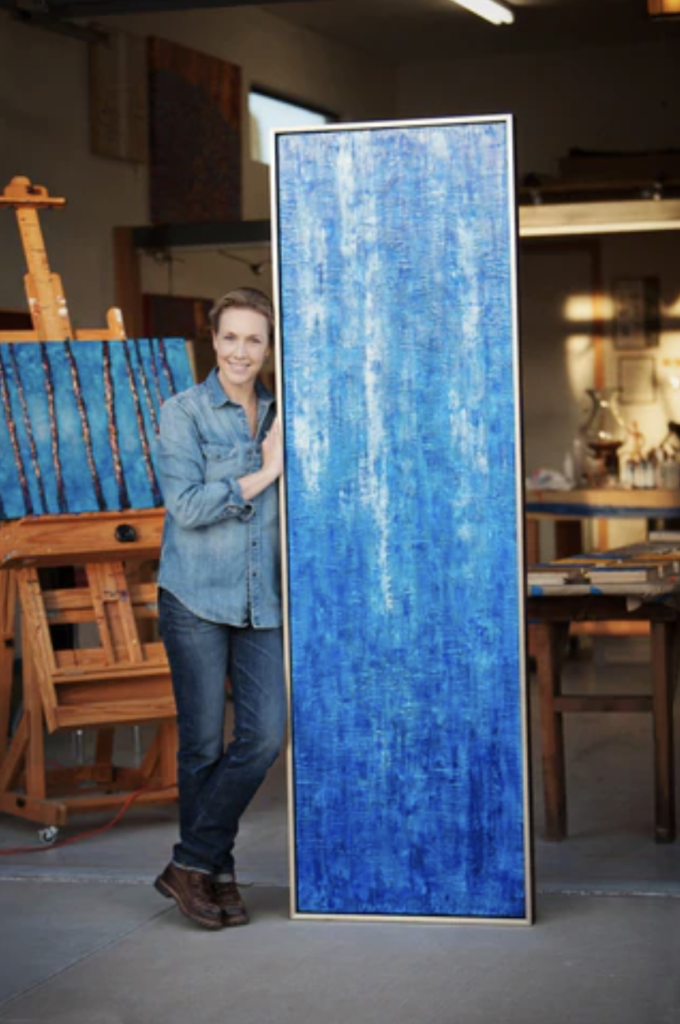 Why Art?
To put it simply, I love to make art that shifts the oppressions of this world and opens space for joy to the person looking at it. Looking at artwork, changes the direction of thoughts – from daily stressors and worries – to the senses and seeing beauty. It changes the atmosphere of the space!
Like third person style? Here's a bit more…
Roxanne Vise lives and works in Scottsdale, Arizona with her husband. She was born in Michigan, then spent the majority of her childhood in California's Napa Valley, where she acquired not only a love of the nearby ocean and wild spaces of the area, but also the free spirited, intuitive approach that today infuses her art.
The relationship between abstraction and spirituality along with a unquenchable sense of wonder of the natural world inspires much of Roxanne's work. She rarely has a scripted plan for how a painting will be completed and lets mood, intuition and spontaneous gestures act as guides. Her materials include aspen leaves, beeswax, acrylic, oil stick, pigments and tree resin to infuse each painting with its individual energy, depth and luminosity.
Her interest in subjects is only limited by the constraints of time. From exploring the idea of aspen trees – each connected through their root systems as one living organism; the infinity of the cosmos; the depth of the ocean; the small flower breaking concrete to reach the sun; to geometric blocks of color marrying ancient geological imagery with primitive gemstones – the textures and wonder of life and the interconnectedness of it all supplies her with inspiration to paint for more than a lifetime. Her current focus lies in three series: aspen trees, celestial and atmospheric landscapes and abstracted geometric images.
Roxanne's work is exhibited throughout the United States. Her commissions include wineries and private clients. Her work is also featured as the poster artist for several events.
Primarily self-taught, Roxanne freely explores new concepts, experiments and develops innovative techniques that characterizes her work. 
Are you and artist?
Roxanne has mentored professional and beginning artists for over 20 years. Including in Native American art, fine art publishing, galleries, top festivals, business planning and sponsorships, publicity and marketing and large events, like the Salt Lake City Cultural Olympiad. She loves helping and guiding artists to realize their dreams of living a life of sustainable creative work.
If you're an artist looking for help with your art business, or even just need a nudge in the right direction, start with an Instant Advice session.
Want to read a bit more first? Start here.