March 10, 2023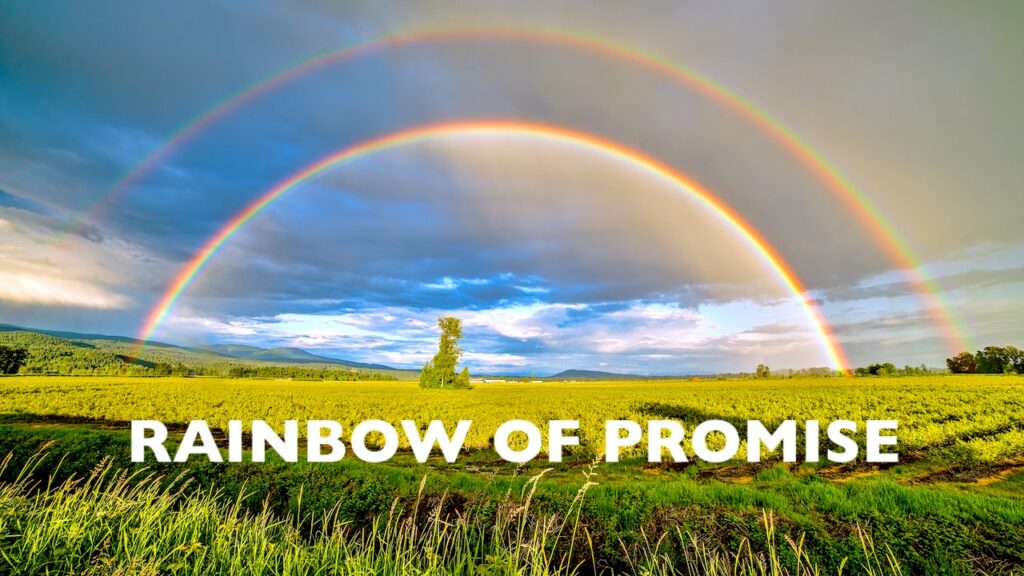 Do you know the story? The first rainbow appeared after the great flood of Noah as a sign of God's promise (covenant) to never again destroy the whole earth with a flood. Thank God Almighty! Read about it in Genesis 9:11-17.
Since the days of Noah, use and display of God's rainbow promise has been distorted and misused through demonic influence and selfish pride (Proverbs 16:18). And yet, He is faithful and continues to hold to His promise. After every rain, there it is in the skies across the world – a beautiful rainbow!
D
Next time it's fire
This earth will be destroyed once again by Him – and by Him alone – through fire reserved for those who do not turn to Him and turn away from this world of sin. They instead, chose darkness.
The list of deeds that are sin, done by those who refuse to repent and stop doing them, are found in Revelation 9:21 and 22:15. Jesus loves people. People were created for Him, but He does not the love the sin.
He died to pay for sins and broke the curse of this world. He died for them and in three days, rose victorious over sin and death! So HUGE! No one can do that, but Him.
If sin in any form is not brought to Him and washed away by his blood and the sacrifice He made on the cross, then it stays stuck on the person. All He asks in return is that you believe in Him and love Him with all your your heart.
Truth on repentance
Those that think and say, "I'm all good – I'm a good person." or even go to church once a week and then do whatever they please the rest of the time, are in danger of being lumped in with demons and unrepentant sinners in the end fire. Please don't go there.
Yes, Jesus loves you (John 3:16) and is waiting with open arms for everyone to believe in Him and turn away from the things of this world (Acts 3:19). Eternal life is our hope in Him and is ONLY available through Him. No workarounds, not any other enlightened being or god or man's religion – He IS the only way, truth and life (John 14:6). Yet, He is also the Judge and is no respecter of persons – If sin is there and a person doesn't repent and stop it…join the line to be toasted.
Please don't go there.
The things of this world make it seem so fun to be a part of, but they will not last. They are all going to be destroyed and the world made NEW for the Kingdom will be here on the newly made earth = Heaven on Earth!!! (2 Peter 3, Revelation 21) It will be better than anything we can ever imagine! Have faith and believe.
All who call upon the name of the Lord (Jesus) will be saved. (Romans 10:13)
Mentioned in this video:
Michael Thompson Ministries: https://www.wordoflifeworldoutreach.org/ "I'll take my rainbow back now" – Almighty God
More scripture references: