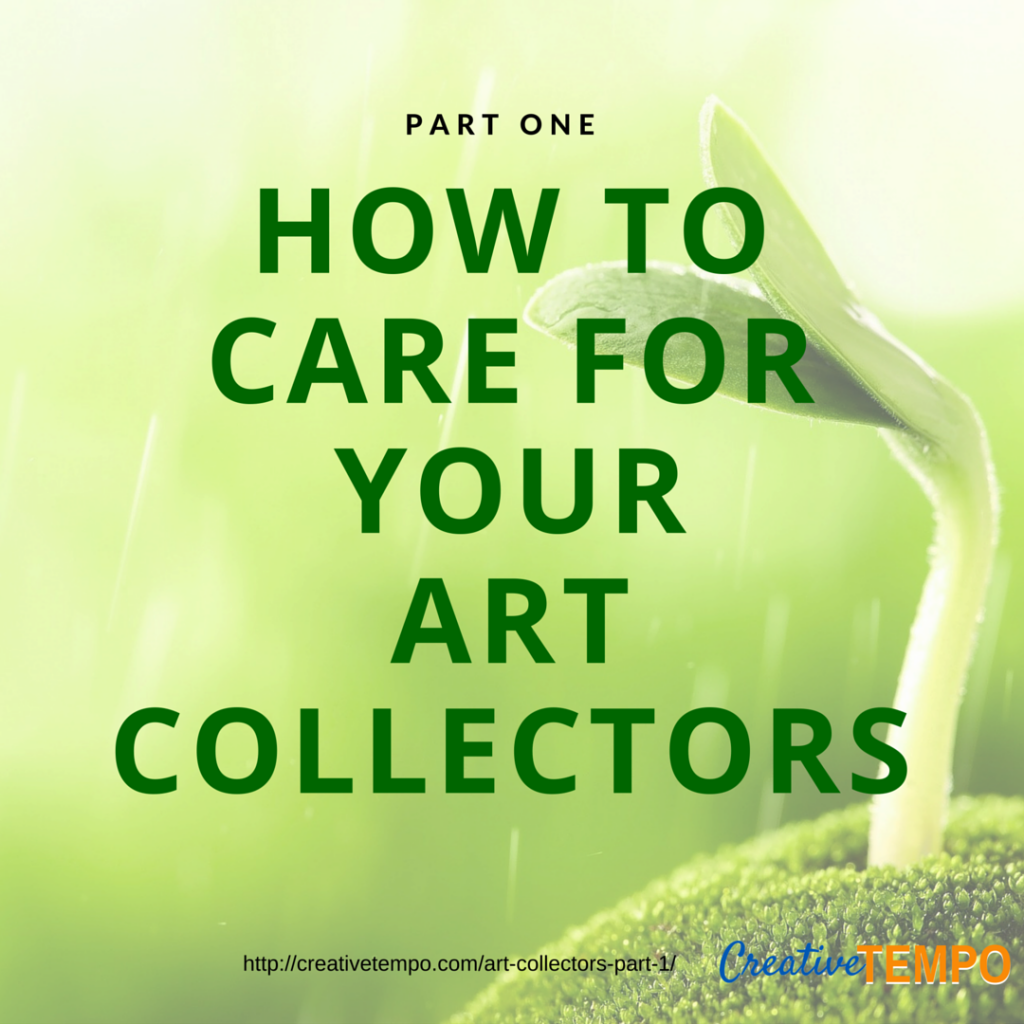 Once you've sold a piece of art, you have a person (or company) who has chosen your work and is now a collector. Congratulations you've made the sale! Now what?
When you're starting out, one work is likely not enough to cover all of your bills (or even keep you in art supplies) so you'll need to get back to selling and hustling for new clients – and that's what it takes – or is it?
Let's dive in for a minute – what IS a collector after all?
Basically, it's someone who has said YES to what you make and now owns that thing that you made. Cool! They like you and they like what you make. So, you say thank you very much and bye-bye – and you never see them again… until they decide to come back and say hello, right?
What if by nurturing your collectors, you could sell more work and at the same time grow your new client list faster than ever before?
We're just starting on this topic. This is Part 1 of a 3 part series on Art Collectors ( Part 2 / Part 3 )
Here we go!
Art collector's are a small group within the world's population. That's not to say that they're scarce, but they are selective – looking for good art that fits their criteria (makes their heart sing, is a solid investment, is fun to buy) – reasons which are as many as the number of collector's themselves. And they're usually friends with other collector's, so it goes that selling art is about relationship building and trust.
How do you meet this group of people who love and buy art? The usual ways are that they are referred to you by a friend, they see your work at a show or they walk into a gallery or your open studio event and discover you – which means, they frequent places where art is and you've gotta get there too.
That first meeting may or may not result in a sale. It's your job as the artist, to take that opportunity to make a new friend whether or not they buy that day: Learn their name, find an interest you share, notice details they share about their family or their taste in art, what's going on in their life (just bought a new house, ready to add to their collection, need a commission) make a note of their names, the date and these details and keep a potential client file.
Success in selling art is about reselling to your art collectors, not the one-time sale. You sell again and again to a happy client. For example, one of my favorite collector's has purchased seven pieces from me. They're friends and we exchange emails and have many conversations that are not at all about art and that's just one collector (and not, they're not related :).
You've heard about the Pareto Principle right? It's also known as the 80/20 rule, and says this: 20% of your clients typically provide 80% of your revenue. So, by focusing on nurturing your existing clients, you nurture that 20% (doesn't matter if the numbers arent exact).
Keeping your client happy and yourself happy are both necessary to keep the cycle going, so it makes good business sense to take time to develop your process for caring for your collectors (and time for self care). From the first hello to a finished project – it is well worth your time to nurture your collector and is an investment into your successful future as an artist.
Let's start at that first hello meeting.
Here are 7 considerations to have in mind when you start your conversation with someone looking at your work:
Don't assume that a client can't afford your work. Some of my best clients are the most down-to-earth people, t-shirts, shorts and runners and if I had pre-judged them, I would have missed out on a sale and a valuable relationship.
Invest your time in educating your potential collector on your process. You need to shine a light onto your work for them to see it's value, beauty and investment potential. Talk about your technique and style.
Discuss the advantages of a personalized, custom work if they're not totally committed to current inventory.
Start the conversation about their current collection, art interests and ask specific questions that will guide you to build the desire for your work into their current lifestyle.
Approach the conversation by solving their problem and filling a need for great art in that blank space on their wall.
Make it easy: if they're local, offer the work on approval – which means you hold a promise to pay (a credit card number, for example) and they take the work home for a reasonable amount of time (typically, 24-72 hours) they either bring it back or authorize a the payment to purchase the work.
Another benefit that I offer is a full-price investment credit for the future. If they buy a small work and want to upgrade, they can exchange the current work (in good condition) for the full original purchase price and apply it to a new work of equal or greater value. We both win. For them, it takes the worry away about making a poor investment they can't recover – and for me, I know I can resell the piece in the future if they were to exchange it and a newer work would find a home. (For the record, I've never had anyone take me up on it, but they love having the security that they're not making a bad investment and it builds incredible trust).
Collectors are the lifeblood of your business. Keep your collectors happy by creating a great art purchasing experience with you and they will spend more with you over time and refer you to everyone they know by telling their friends that you are the artist to buy from.
This means that you need to include ways to nurture your relationship with them as one the the top priorities of your business. Surprising and delighting your collectors at times when there is no sale on the table will encourage a future sale.
Constantly hustling for the next sale and ignoring the customers you already have is a big mistake. A little hustle for new business is a given, but when you leverage what you've already built, you can put more of your energy into creating great art.
Daily Do:Make a list of 3 things you can do to this week to nurture your current collectors and share them in the comments or email me – I'd love to hear what you come up with!
This is the first article in a series about collectors. Read part 2, where we get more specific and work through 10 steps to build better relationships with your collectors.
Subscribe > Mostly weekly… Always for you.