Free Mini-Class
Ready to grow your art dreams into a real business?
This Mini-Class is a quickie mentorship! You'll get clear on all the essential steps to start your art business: Step-by-Step.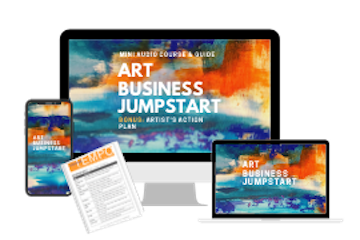 This class includes actual steps that you can work through alongside the bonus Action Plan pdf guide and video walk-through. Listen and FINISH on the spot!
It's FAST! In less than 30 minutes, you'll be done with your workbook, have a clear understanding of where you're at — and even better – you'll be ready for your next steps to finally start, or restart, your art career.
The question is… will you invest 30 minutes into your art future?
(psst.. it's complimentary! – hit that "I'm Ready" button before you overthink it!)
Get it done worksheet & checklist
Really not ready yet and just want to read the free stuff on the blog?
No worries — Start Here