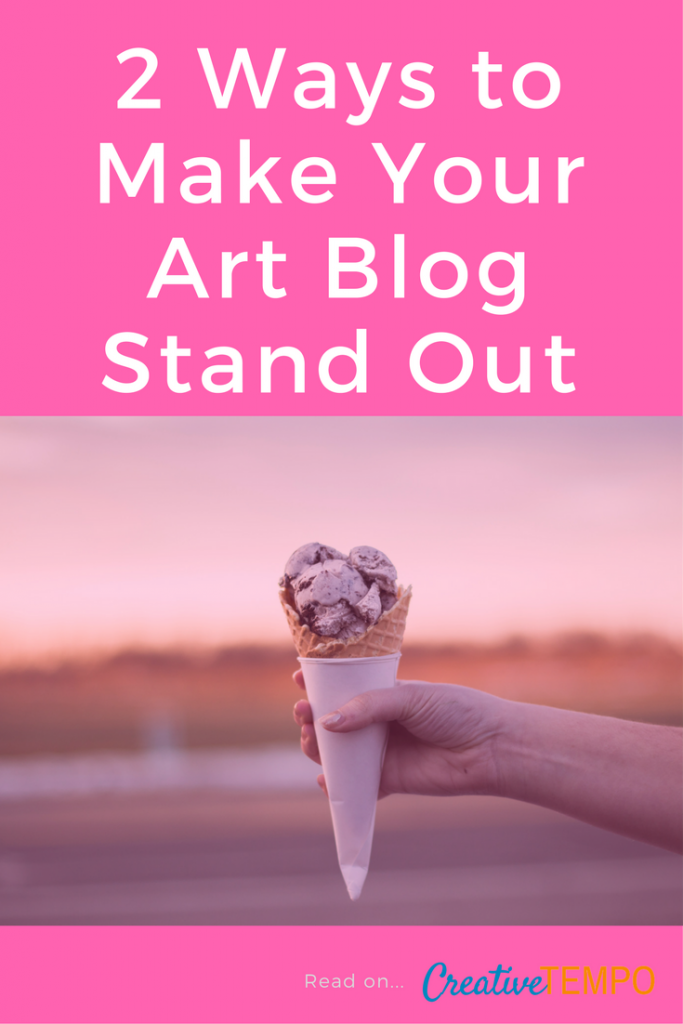 Need help?  First grab the Art Business Jumpstart.
So you've decided to restart your art blog, or start a new one from scratch, you're finally ready to commit to posting on a regular schedule — HOW are you going to make your blog stand out from the hundreds of other artist blogs out there – and more starting every day?
We can't even begin to talk about ways to make your art blog stand out if you don't even begin. (Start with 10 Reasons Why Artists Need a Blog then jump back here). You've go to get started and trust that you'll learn this stuff – you WILL figure it out.
Just like your art, you practice your craft — so pick up your tool and begin. You'll write really bad posts and epic ones, but not if you don't start. So, put your hands on your keyboard and write!
You can write it out first on paper if you like or even talk to Siri and get most of it down by voice into the Pages app or use Evernote's audio.  You post your images, your words, your message, check it over and hit publish.
Simple, right?
It IS simple – IF you think of each post as one part of the full picture, you have the goal for your blog decided, your passion reined in and your expectations reasonably set. Don't worry, I'm still learning this stuff too.
This is the part where you show up and do the work. It's super easy to let little gremlins take you away from working like – distraction, overwhelm, no time, too tired, need more research… > Here's the best list I found if you need 77 more excuses reasons.
To get you past that, here is an almost foolproof method to getting started – If you've got your cool artist warrior armband on and you're ready to start writing, but a little shaky – here it is:
Pick your ONE idea for the ONE post you're working on and go DEEP and W-I-D-E with it.
---
---
Here's a quick shot of what I mean.
Shallow vs Deep:
If your one thing is to write about your favorite paintbrush, to write shallow is to describe the bristles, the handle, the color and how you use it. Surface and technical stuff.
That's great for an artist interested in buying a brush just like it, but not so great for someone who wants to hear your story and become a collector of your work.
Creating a story around your favorite brush, adding in emotion, showing why it's your favorite and bringing it to life will likely engage your potential collectors who love a peak into the life of an artist.  Bonus points for gaining artists readers too. 
Narrow vs Wide:
If the idea you choose to post about is extremely unique – such as a particular resin and the curing process you use – the topic is SO narrow that only someone interested in using resin will read it.
Posting about an idea that will interest a wider audience and encourage them to share it with friends is the wide approach.
There's no wrong way with any of these, just be clear on what you want to share – technique or story and who you're writing to – the artist or the buyer?
---
---
Let's dig in a little more…
Diving DEEP
Diving deep into the thing you're writing about draws readers into the story and helps your reader connect to what you're saying.  Start asking yourself the deeper reasons why you're writing the post. Is it about something you love? Something that annoys you?
Start describing it like you're in a movie.  Paint your message.  Feel it, don't tell. Drop the academic rules and feel what you want to say and write THAT from inside your head – let it spill out, unedited.  You'll edit at the end, don't worry yet – when you just let it out, you'll surprise yourself.
Here's an example of three ways you can go deeper into a description.  Let's say your post is about your latest outdoor art show.
Surface writing:  I went to the art show early and opened up my tent to get ready for the day.
A little deeper writing:  The morning is early and misty as I make my way through the line of tents to my own.  I can see my breath today.  It's cold and I can't tell if I'm shaking from the temperature or my nerves.
Digging deeper:  The morning is like a pink ice crystal as I make my way through the maze of tents.  They all look like frosty marshmallows anticipating the day's orange fire to thaw them.  My nerves are on edge today, they always are on the birthday of a show.
You don't have to write like a novel in your posts, but use this example to help turn your words into an experience for your reader.  They can't see you open up your tent, so let them experience the feeling through your words. 
Writing WIDE
Writing wide, or broadly, about a topic gives generalities and summarizes an idea or an experience.  Using the art show example above, it's like this:
The art show was a two-day event, filled with artists from around the town, all working in sculpture.  The show is one of three shows that are held in the area each year. 
When you write wide, it gives just enough information that someone understands what you're talking about and it might intrigue a reader enough to ask you a question like "where's that show and can I get in?"  However, it reads more like a dry newspaper report.
Unless you're reaching dry-newspaper-report-readers you not likely gain the eyeballs of who you're trying to reach.
Let's talk about going wide with your post in another way = Reach.
Getting a post to reach a wide range of readers, or even go viral, is talked about a lot online – like it's the holy grail.  It's not the only reason to write.
Sure, having lots of readers read your words and share your post feels great!  It makes you feel like you matter, that your words made a difference, that your face planted into a cup of coffee, grinding out the page when it's hard — it all mattered.  But wait — that's about you.  What about your reader?
And before we talk about your reader, what IS viral anyway?  If you're just starting, it could be getting 1 comment, or 5 shares!  Woo-hoo!  You're on a roll!  For someone who blogs for a living and has an established and wide network, it could be hundred of comments and thousands of shares.
Does it matter? Are you writing for chatter or impact?  Remember what your main goal is for the post and for your blog and keep going back to that as your guiding focus.
Okay, back to your reader, the one person – no, let's say out of the five people who read your post, two decide to share it.  You see the number of shares in your social media bar under the post and you get all happy! People reading and sharing is a step in the right direction.
You could treat the share counter as your gold star that you did something right, try to figure out what it was and repeat it.  The better your post, the more shares it gets, the wider audience it reaches and soon, the people that really read what you share will begin to show up.
Wide reach happens in time if you keep showing up and know the 3 fundamentals of blog post writing,  If you know you who you're writing your post for, the community of readers that read the type of things you want to share and your way of seeing and explaining things is clear, then you WILL start to gain traction with your posts and widen your reach naturally over time.
---
---

INTERMISSION
If your eyes are glazing over, go grab a beverage and listen to this 10 minute audio, (Artist Library member? login and grab it) then come back and finish this up.  You've got this!
Okay, ready?
---
---
What's next?
After the writing, editing and formatting your post is next so that it's easy to skim over, which makes for an easier reading online. Test it out by skimming other posts online – notice how the words are broken up into short paragraphs, headlines stand out on important points, plenty of white space to rest your eyes between points or turns in your message and a use of images that strengthen your words.
Noticing the general practices of blog writing in different kinds of industries, and what popular posts look like, and learning how the ones you like are organized will help you take the guess work out of formatting and move you closer to getting started.
These are guidelines to help you, not ridged rules.
You'll have days you want to rant about something – simply state that it's a rant or rambling thoughts post before you begin, like I did here.
Other days your heart bleeds and you're compelled share it – get it out – it's your choice how much and how unedited material you share and you can always delete it later.
The beauty is – YOU decide.  It's your online sandlot.
---
---
Every stroke of pen or brush, is part of the process. Allow yourself to learn, create, share and grow – and if you do that consistently, you'll have the honor of making an impact.
Grab the Art Business Jumpstart and get going!
How would YOU describe a paint brush? Let's hear in the comments!
Upgrade your art. Create on purpose.
See you back here soon,
Roxanne