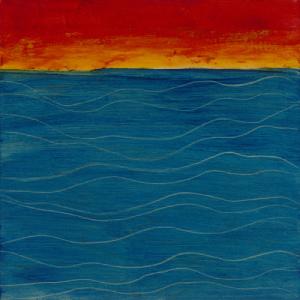 I made a new friend, Heidi. That\'s what collector\'s become. Friends.
We share a love of beauty through art – its like a lasting conversation we continue to have together – once they take it home and put my art in a special place. Heidi, my friend, is a special collector who gave me a gift when she selected my painting, Delight, from my water series. Her glee when she received my painting would have been enough of a thanks,
It arrived!!!!  It is soooooo beautiful.  It made my day.  It's so vibrant and alive….I love it. Thank you. Thank you.  It arrived in perfect condition.  And the notecards are exquisite.  Can't wait to share them.   – Much love and gratitude
She went above and beyond to share her wisdom with me, a gift, and turned my attention toward Mary Oliver, a poet of poets. My wildly passionate, adventurous feasting art-spirit often needs a bit of grounding, a moment to focus.
Started with a post of her poem….
\"My work is loving the world. Here the sunflowers, there the hummingbird… \"
Then, well… got a reply from the publisher, Beacon Press, to my request to post it – they don\'t want Mary\'s poem posted in the world wide web. Bummer. So, I encourage you to go find her work elsewhere and devour it.
Thank you Heidi.
Thank You Mary.