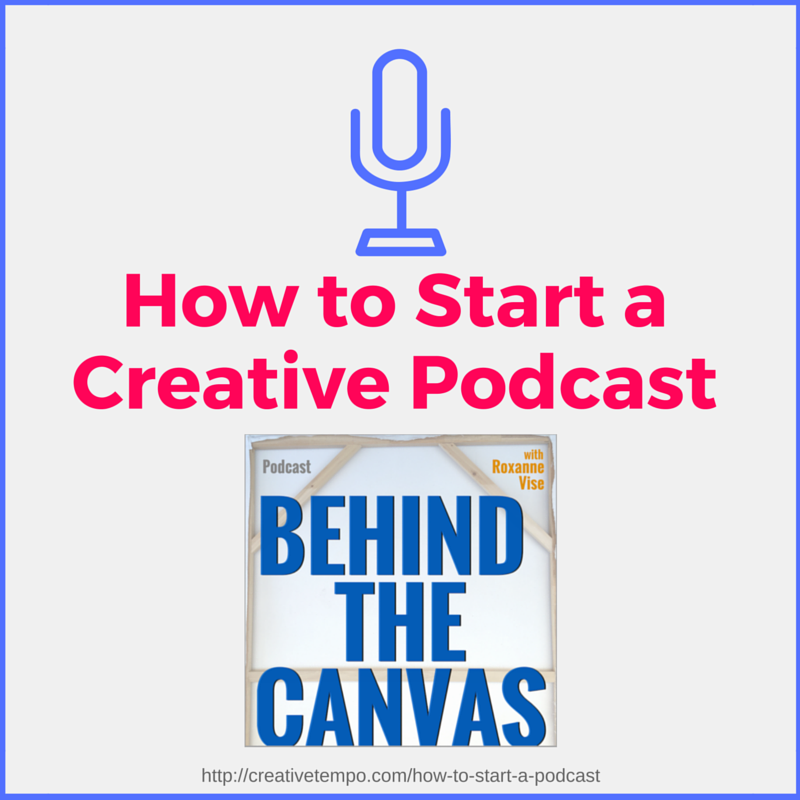 Before you start a podcast, grab the Art Business Jumpstart
Starting a creative podcast was on my list of things to try since about 2013 when I started listening to podcasts and discovered people like Pat Flynn and his tutorials on podcasting – I even created a page for it in 2014 that said "Podcast Coming Soon…."
Soon became 2016… two years later.
You wanna know what finally made it happen? Someone sent me the secret sauce: A challenge, clear steps to do it and accountability.
When producing anything creative, often there's a launch point, an idea, a suggestion from someone, a course you take, a coach or mentor you sign up with that actually moves you forward into action. The only way that it (whatever IT is for you) becomes a reality, is by being challenged, learning and understanding the steps to make happen and the key ingredient — by being held accountable.
For this podcast to become a reality, I needed a reason (a challenge) to push it up on the priority list and I got one in an email from Paul Jarvis and his Sunday Dispatch announcing a podcast challenge and politely inviting me to check out his Podcast Like a Boss masterclass. I said yes to the challenge and jumped on getting the tools that I had held on my list for years: a microphone (Audio-Technica ATR2100-USB Cardioid Dynamic USB/XLR Microphone) and pop filter (Neewer NW(B-3) 6 inch Studio Microphone Mic Round Shape Wind Pop Filter Mask Shield with Stand Clip (Black Filter) – then I opened up Garage Band and went for it!
His challenge included specific steps to take, a deadline to complete them and a promise of a follow-up email to check on the progress (that secret sauce). So grassroots creative podcast, here we go!
Two years of a coming soon page and I either had to trash the idea or go do it – now or never.
The mission for the show is to create a portable way for artists to hear from other artists and industry professionals and learn with a mentor in DIY style – the best of both.
To learn to be a Pro Artist, DIY style without a mentor, you could pour over books, take a workshop or two, join a group or association. But here's the thing, most successful artists have a mentor or two. You need someone, even if it's just a voice on your mp3 player.
The podcast may be just the push you need to get disciplined with your art, submit a proposal for an exhibit, open your own gallery or relaunch after being in a career or home with kids for a few years. You can always reach out, email me or schedule a hello call, where you can ask specific questions you need help with. For more mentoring, accountability or coursework to get your dreams done, check out the Work With Me page and choose the best fit.
Maybe you're thinking of creating your own podcast?!
If you are, I've created a list of podcast tools I used to get started and this Podcast Workflow infographic to show you my podcast workflow and how I went from choosing an audience to publishing to iTunes. You're free to download and share it! I'd love to hear about yours! Come back here and leave a comment on what your podcast is about.
To make sure your art business is ready for a podcast, first, grab this checklist and mini-audio course for your Art Business
Podcast Tools I use:
USB Microphone
Pin and Share the Podcast Workflow infographic: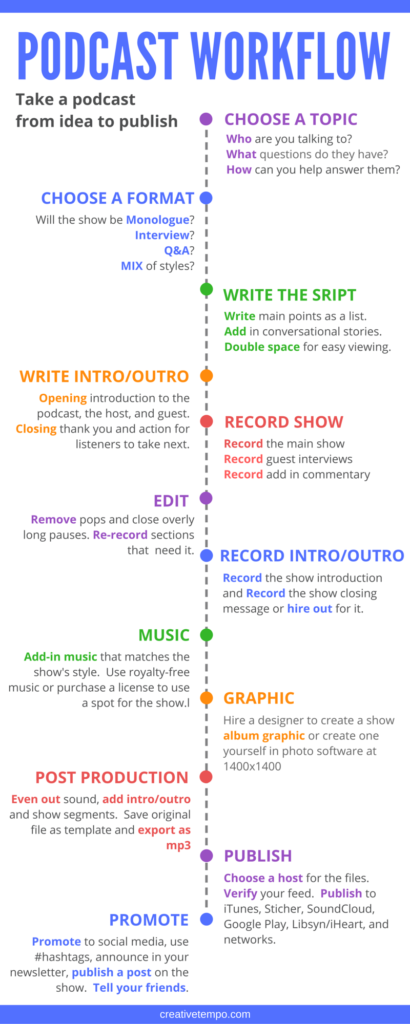 Disclaimer: Links in this post may give me a commission if you choose to purchase through them. The price doesn't change for you. Thank you in advance if you decide to purchase through them. Really, Thank you!
Need a new home for your website? AND a place to host your podcast?
Focus on creating and stop updating plugins, paying for multiple hosting sites and worrying about security: (afflink)