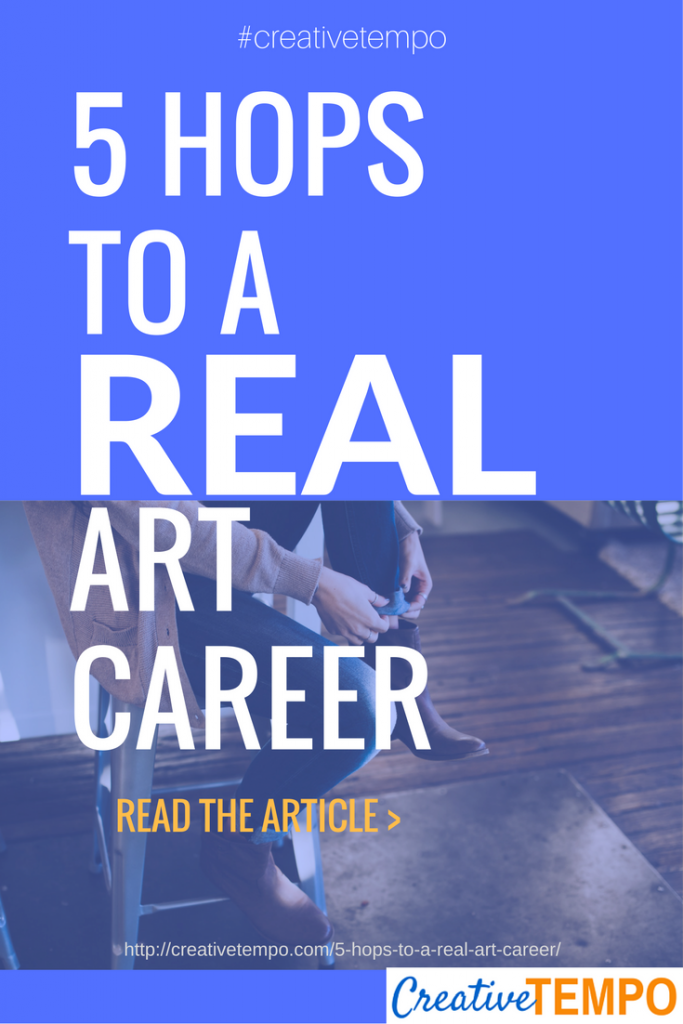 What does a REAL art career look like to you?
Does it mean… a finished painting, a well-produced exhibition, a successful commission, making money, hearing praise or glowing review?
Those are the desired outcomes of the creative process — and ones that most artists want to achieve:  Success, reward and validation.
Yet how do you get there?  And then once you do – how do you get there AGAIN… and again – enough times to consistently buy groceries and sustain a career?
Then, does success make a career REAL?
In this article, we'll focus on 5 hops to get you a real career (because stepping may be too slow and jumping is usually too fast), then you can decide if it's a success or not.
Whenever I seek and answer to a question or a problem I'm looking to solve, I follow the trail and uncover clues to the answer all the way to the ROOT of the topic.
For example:
If the problem is interrupted sleep, I'd first examine all of the immediate surroundings (is it too hot or cold in the room, are there noise issues, comfort issues??) then, explore rhythms, patterns and habits leading up to sleep and continue on with questions about diet, conversations, relationships, stress and keep going until I find the main triggers and have gathered enough clues to create an answer, a probable cause or collective cause of the disrupted sleep.
Then to solve that first question or problem (how to sleep better), I'd go backwards along each trouble spot and start solving it, step by step, to get better sleep.
Kinda scientific.
If your problem to solve isn't sleep, but instead is being successful as an artist, you can follow the trail of success in art the same way.
There is NOT a secret door that's hidden from you that only other artists can find!
If you want an exhibit for your art, there are proven steps (hops) to get there.  If it's commissioned work you want to start doing or if you want to receive a grant or a fellowship or even simply finish a painting – you don't have to wonder or reinvent the path – there are tested hops to get there.
To start at the beginning – the root – of a career, let's consider 5 hops that lead to a successful, and very real, art career:
Define your strengths. You've gotta know what you're good at and what you like to do enough that you'll keep doing it, improving upon it and mastering your craft.
Dedicate time for your process. Investing your time in the process is unavoidable.
Create a consistent body of work. Focusing on mastering your technique your style, subject, palette, media or particular presentation of your work will leap you light years ahead in defining your art in the mind of collectors – making it easy for them to choose you.
Do the details. The administrative stuff is often what a solo artist avoids, but if you take time to build a system that works well, it's like a well-oiled machine that drives your whole business, brings in new opportunities and repeat buyers. Things like tracking inventory, accounting, shipping, marketing, blogging, follow-up with clients.
Diversify. Get your work out there in a few different places consistently – online, in a gallery or shop, a festival, hold an open studio event or hold a show in your community. Show up until people recognize you and your work – and decide to buy.
See how easy that is? Five simple steps/hops.
What happens now?
You've just glazed over the list and now… are dashing off to read another article or check email or go pick up cereal that your kids spilled on the floor.
Do you buy a course to help you work through how to do it?  Do you hire a creative business coach?  You could.  Or you could also just begin and do number 1, 2 and 3 over and over for a few months and get into the rhythm and process of creating.  Know yourself first, then raise your hand, that's a good way too.
I know it can seem hard, but it's so worth it!  Stop looking for shortcuts.  The obstacles test you, the work makes you stronger, drives you deeper into yourself to reach in and pull out and put into your art what only you can.
It's what I need from you.  It's what we all need from you.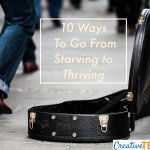 Read more about how to have a successful art career: https://roxannevise.com/10-ways-starving-to-thriving/