The story of 2020 was like learning to surf by being thrown into the ocean.
You could feel the swell, yet not entirely certain of what that wave (the year) would bring – or how, or if you would even be able to ride it.
And now, 2020 is over. Have you really looked at what transpired?
Fear sought its way into daily life. Most was manufactured, scripted, performances. Many people put faith in false news and into a handful of people whose purpose is to build and feed on the fear — it caused even the strongest to stumble and line up to be saved by the prick. It's still happening.
Even in the Christian communities you could hear lots of advice circling in…"it's the end times!" – "…the end of money… end of the world…" – "quick, grow a garden!" – "build a chicken coop!" – and more.
There are PLENTY of words of fear to go around. Instead, just take care of the concerns of today and let God worry about tomorrow.
Turns out, the learning to surfing analogy still works in 2021…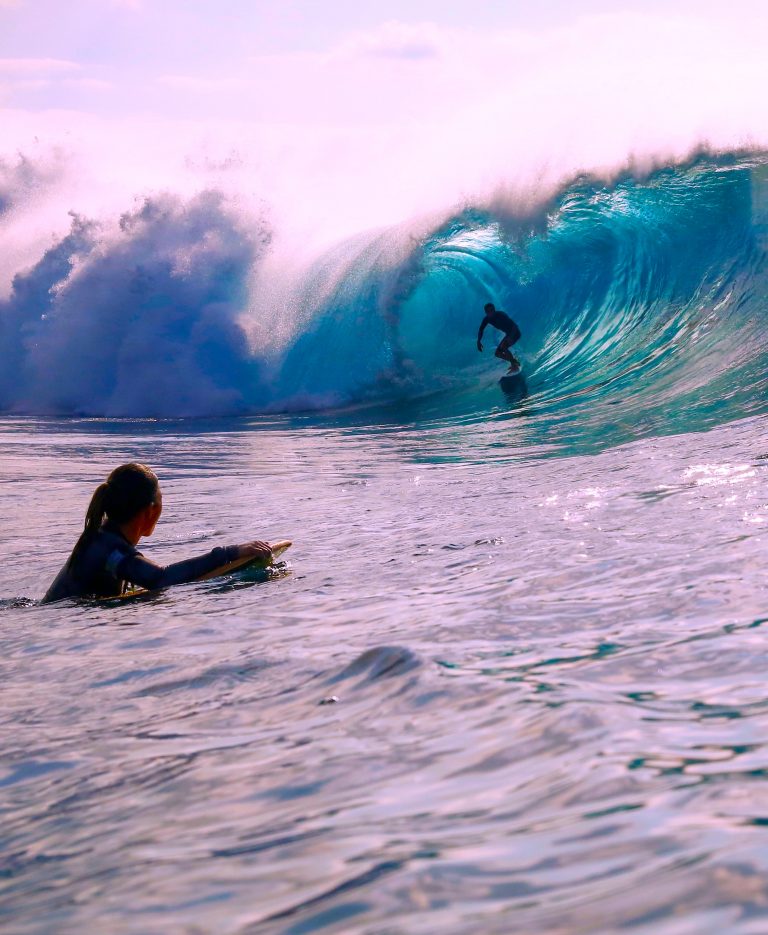 The swell has increased and we know the wave we're riding is a big one — like Hawaii BIG.
Remember, big doesn't always mean bad. Everything on the outside is in upheaval. We see many people changing their patterns, their ability to breathe, their conversations — everything is rising to the surface, to be sorted, with that big wave. Put those over there and this bunch over here. Us and them, pricked or not, triple-masked or none, political parties… it's biblical, really, sorting 'the wheat from the tares'. Cutting through the waves.
Surfing is also about surrender.
Not falling into the water surrender — but instead, surrendering to what is greater — to who is powering that wave — and keeping the faith that as you stay centered on your board and drop your anchor there, you are being held and directed into the channels that will bring you out through the tube that threatens to crash — and back into the sunshine on the front side – to pure exhilaration!
Surrender is not passive. It's about doing brave work — being aware of opportunity and using what you've got. It's trust in your inner knowing, in your Creator, and letting go of controlling what the outcome looks like.
Let's get straight to it: It takes faith, prayer and meditation, connecting in each moment to your Creator, the God of Light through Jesus (kinda like putting on Son glasses), sheltering with your family and joining a community where you can be supported.
---
There are plenty of words of fear to go around…
If you believe in God, then you know this: God is NOT the spirit of fear.
The only fear that IS constructive, is the fear of God.
He alone has the power to send a soul to hell. Do you actually know what that means?
I don't know why anyone would choose that path!
Yet, even then, He sent his Son Jesus Christ to give each of us the gift of salvation.
We have an out, no matter how bad we mess up.
(read it yourself, starting with John 3:16)
A pure GIFT.
The only requirement… is to believe.
Faith doesn't exist if you don't believe.
All glory goes to God – is that so hard to do?
---
If you don't know what I'm talking about, it's kinda like the Polar Express (but not even close), where if you want to see Santa and the north pole, you simply have to believe and get on the train. Except WAAAAY better.
Why am I talking about this all now? Talking about God now? Am I a religious freak? NO. Religion is man made. The fact is, I was raised in a very strict religion that some people did call freaks. Things like… eating vegetarian, no meat, no jewelry, no TV. Actually, most things that are now becoming chic – Blue Zone chic.
I felt early on that most all of the strict rules were ones that the people and those way back in the 'church' imposed. So what did I do as soon as I was 18? I dropped religion like a hot potato. And yet…. I never felt that psychics, tarot and other practices were the answer either and thankful that I never went that direction. I simply separated man's religion from God and I just went quiet and kept it private and started searching for truth.
I've experienced near death, been out of body, experienced miracles and been blinded by angels and learned about portals and fallen angels.  I was pushing to learn and learning to listen.  From elusive elements, magnetics, dynamic energy, frequencies and more, my thirst for the truth of the universe, unknowingly began to pull at my anchor to God's truth.  Thankfully, I was given the chance to notice.
What the last 11 months of spiritual pressure has brought to me is perspective and truth, back to actually reading the Bible (Holy Bible (Llamsa translation) whole books at a time, not just a verse here and there — showing up to help others, finding truth tellers sharing hope and ALERTS, like — Lois Vogel-Sharp, Robin D. Bullock, Elijah Streams , Amanda Grace and seeing it on Te.le–Gram – to remembering what got me through hard times in my life – hope and faith – and to the realization that FAITH is more important than success.
Faith is everything.
---
What this post does do, is call you and me out on what path we're choosing in 2021 and beyond. Watch my video take on this here:
Does any of this ring true for you? If yes….
Please consider joining us in ULA.
Jumpstart your art business here: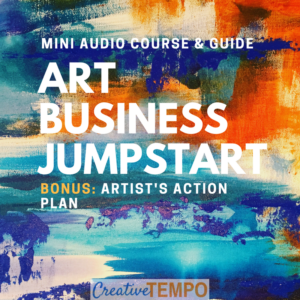 photo credit: Brent Storm, Unsplash
Holy Bible link is Amazon affiliate link