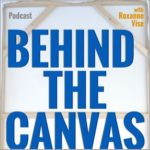 The term, starving artist has been used in the art business world for waay too long.
Accepting that title as a right of passage, or as a badge of honor – saying that art and money don't mix – is the trap that can leave you broke and dry up your dream to create faster than you can blink your pretty creative eyes.
Tying your self-worth to money is wrong on so many levels. If you're cool with nomoney, then, that's cool. If you're cool withmoney, then, that's cool too. Just don't be adverse to money for the sake of someone else's ideas about how it relates to art and your own self-worth.
Think about this: What are some things you like that need money? Do you like to buy food? Need money. Do you like to buy food for your furry friend? Need money. Like to drive? Need money.
In this show, I talk with you about..
Some cool thing you can do if you have money
10 things you can do right now to go from starving to thriving
How to win a copy of The Life-changing Magic of Tidying Up, by Marie Kondo (hint: leave a review on iTunes for this episode before the end of July)
How to price your work.
This is the first week of Behind The Canvas and it's release on iTunes. Reviews, subscriptions and comments will help the show get noticed by artists who need it. Please help launch this show buy leaving a review or comment on episodes and subscribe to get the latest show each week.
I really appreciate your help! thank you! I'm giving a FREE copy of Marie Kondo's book to one of you! Contest is over
Behind The Canvas podcast is created for artists just like you.
Show Notes: