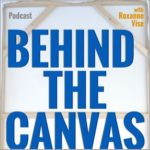 Give yourself permission to relax – enjoy the small wins and celebrate the big wins.
Everything is progress.
We only lose time when we procrastinate, worry about being perfect and let fear and self-doubt into our heads – they're all time-waters.
Your inner voice makes a guest appearance toward the end of this short podcast, so listen to the end!
In this show, I talk with you about..
Taking time to enjoy small wins and celebrating big ones.
The time-wasters
Big Friendly Giant – otherwise known as Mindset.
Paul Jarvis – podcast challenge
4:25 marker – Guest appearance by your inner
Reviews:
This is the first week of Behind The Canvas and its release on iTunes. Reviews, subscriptions, and comments will help the show get noticed by artists who need it. I ask you to please help launch this show buy leaving a review or comment on episodes and subscribe to get the latest show each week.
I really appreciate your help and to say thank you, I'm giving a FREE copy of Marie Kondo's book to one of you!
I'll pick a name randomly from the reviews on Episode [EP01]. You have until the end of July to do it – so hop over when it's up on iTunes and grab as many friends as you can to share the episode and leave a review. AND you'll get to share the book with them if you win and you'll be a part of launching Behind The Canvas podcast that is created for artists just like you.
Show Notes:
Course to help you get going
Art Biz Camp – summer-paced course to tune up your art business