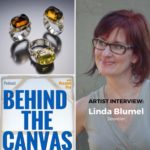 ARTIST INTERVIEW: Linda Blumel, jeweler
In this show, artist and jeweler, Linda Blumel and I talk with you about..
If a fine art degree is really important for your art career.
The best reasons to take a workshop.
The importance of a mentor.
Building trust with online buyers.
Photography tips for capturing jewelry images for your website.
Adding an open studio event as a component of your business.
Tips to use in your business to earn customer loyalty.
Reviews:
Have you subscribed? Only if the podcast resinates with you, but if you choose not to subscribe, I'd still love to hear your voice…
This is the first month of Behind The Canvas and its release on iTunes. Reviews, subscriptions, and comments will help the show get noticed by artists who need it. I ask you to please help launch this show buy leaving a review or comment on episodes and subscribe to get the latest show each week.
Show Notes: